The Yarraman
Territory Way
The use of horsemanship is gaining momentum internationally as an innovative opportunity to engage people in meaningful and rewarding activities with abundant outcomes across wellbeing domains.
Horsemanship helps.
A study into Equine Therapy by Francisca O'Kelly, 2015 School of Languages, Law and Social Sciences, Dublin Institute of Technology, Dublin, Ireland, to explore the role that an equine-assisted learning program played in diverting young people from criminal pathways found that the development of empathy, self-esteem, self-efficacy, feelings of hope and belonging, practical skills, and positive relationships with practitioners, was facilitated through this equine-assisted intervention. These, in turn, support the resistance process for the young people and assist them in the transition towards more positive life outcomes.
A number of key findings emerged from the data collected and analysed during this study. These relate to the relevance and importance of: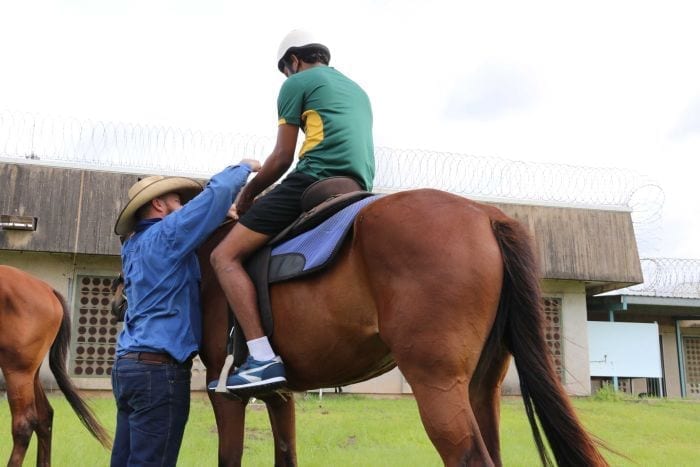 Passion for horses and responsibility.

The development of empathy through relationships with horses.

The development of psychosocial competencies through working with horses.

The sense of belonging and connection facilitated through the building of positive relationships with practitioners.

The importance of hope and offering positive opportunities in motivating young people to change.
Positive outcomes backed by research.
Research indicates that there are many physiological and psychological benefits of equine assisted activities in adolescents (Burgon, 2011; Forsberg & Tebelius, 2011; Keino et al., 2009; Trotter, Chandler, Goodwin-Bond, & Casey, 2008).
Equine activities, such as those provided by the Yarraman Territory Connection with Horses, provides opportunities for motivational, educational, recreational and often therapeutic benefits to enhance self-efficacy, social behaviour and engagement.